Administrator
Staff member
Joined

Jul 24, 2007
Messages

5,830
Points

63
Location
Website
Credits
Former Bills Superstar Cornelius Bennett Private Signing March 26th, 2021

Sportsgraphing is excited to announce our 1st private signing with Cornelius Bennett in late-March. Items must be received no later than 3/23/21.

Career:
Super Bowl XX, XXVI, XXVII, XXVIII with Bills. Super Bowl XXXIII with Falcons.
1987 NFL #2 Overall Selection
1988 and 1991 AFC Defensive Player of the Year
1988 and 1990–1993 Pro Bowl Member
Buffalo Bills 50th Anniversary Team
Future NFL HOFer
Alabama's All-Century Team
1986 Lombardi Award
1986 SEC Player of the Year
2005 College Football Hall of Fame

YOUR ITEMS (Plus JSA and S&H):
Football Cards $25
Flats/Minis $30
Footballs/Jerseys/Helmet $40
Inscriptions $25 per ("Biscuit", Super Bowl reference, Bills 50th Anniversary Team, 1988 AFC Def POY, 1991 AFC Def POY, 5x Pro Bowl, "Roll Tide", "Crimson Tide", 1986 Lombardi Award, 1986 SEC POY, 2005 College HOF. Up to 5 words)
JSA $10 Per. All items at this signing will be witnessed by a JSA employee and come with their Basic Cert.

Mr. Bennett has final approval on items he will sign or inscriptions. We will do our best to accommodate every item that you send in.

NOTES: All items will be signed in Blue Sharpie unless you state another color. Black/Silver Sharpie is available as is Silver/Gold Prismacolor.
WHOLESALE AVAILABLE. Email me.

IDIOT PROOF YOUR SEND IN ITEMS.
1) Include a TYPED note inside with your NAME, ADDRESS, PHONE #, and EMAIL.
2) Put a small Post-It on the item with your name.
3) Put a 2nd Post-It on the item with where you want the item signed and the color of marker or pen.
4) When requesting an inscription, WRITE IT OUT CLEARLY so it gets done properly.
These rules are to make sure you get the item back 100% the way you want.

Cash, check, or money order to be sent in with your items made payable to Sportsgraphing OR PayPal alan@sportsgraphing.com is also accepted.

Ship your items to Alan Moore, Attn: Bennett Signing, PO Box 1245, Millersville, MD 21108.

Return S&H for YOUR ITEMS must be included with your items.
1-9 cards $4 for USPS First Class Mail with Delivery Tracking.
1-4 magazines, photos, ONE Mini Helmet, or 10+ cards, please add $9 for Priority Mail S&H.
1-3 Jerseys, please add $20 for Priority Mail S&H. 4+ Jerseys - $25.
Full-sized helmets, please add $60 per helmet for Priority Mail S&H. Sorry, we have to ship down to Florida then back to you.
Insurance by request. Add $3.50 per $100 value for all insurance. We are is not responsible for lost or damaged items.
Sorry, no SASE for this signing.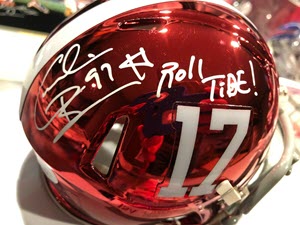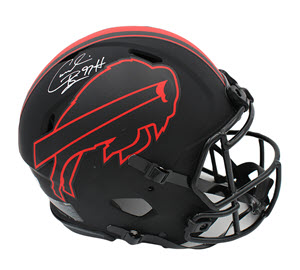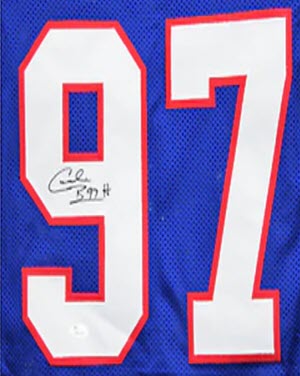 Last edited: