Administrator
Staff member
Joined

Jul 24, 2007
Messages

5,815
Points

63
Location
Website
Credits
Sportsgraphing is excited to announce an upcoming private signing with 2X All-Star Brad Penny in early April. Items must be received no later than 4/2/21.

Your Items (Plus S&H or SASE):
Cards $15
Flats $20
Baseballs/Hats $25
Bats, Helmets, Jerseys, and Bobbleheads $30
Inscriptions $10 ( 2X All-Star, 2006 All-Star, 2007 All-Star, 2003 World Series Champs, 2006 NL Wins Leader)

Our Items (Includes shipping):
OMLB $52
Black OMLB $54
2003 World Series Baseball $80
2006 or 2007 All-Star Baseball $75

NOTES: All cards will be signed in Blue Sharpie and baseballs in Blue ballpoint unless instructed otherwise.

IDIOT PROOF YOUR SEND IN ITEMS.
1) Include a note inside with your NAME, EMAIL ADDRESS, and MAILING ADDRESS.
2) Put a small post-it- note on the item with your name.
3) Put a 2nd post-it- note on the item with where you want the item signed and the color of marker or pen.
4) When requesting an inscription, WRITE IT OUT CLEARLY so it gets done properly.
These rules are to make sure you get the item back 100% the way you want.

Check or money order to be sent in with your items made payable to SportsGraphing or PayPal Friends/Family geomoojr@gmail.com are accepted.

Ship your items to Alan Moore, Attn: Brad Penny Signing, PO Box 1245, Millersville, MD 21108.

Return S&H must be included with your items or include your own SASE. Cards (Up to 10) $4, 8x10's (Up to 8) $9, Baseballs $9 for 1, $15 up to 12. For larger items, contact me for a quote. If you chose not to add a tracking number or insurance, that's on you.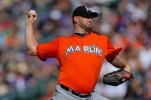 Any questions, give me a call or email.

Cheers! Alan
410.963.8226